Meet Dr. David Angell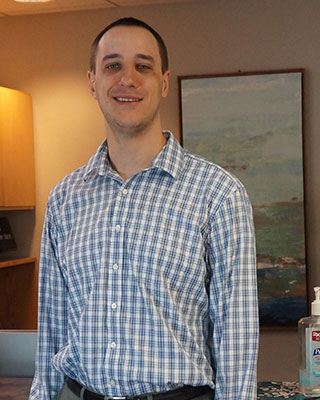 A swimmer growing up, Dr. Angell hurt himself while diving during his freshman year of high school. Due to his injury, he couldn't swim for six months. During that time, Dr. Angell went to a succession of medical doctors as well as a physical therapist. Although the care helped him for several months, he wasn't getting better at swimming.
Highly upset, Dr. Angell went to see an orthopedic surgeon and had a complete workup done. Dr. Angell was told that nothing was wrong and that he needed to return to have PT. After getting a second opinion from another orthopedist who told him the same thing, Dr. Angell decided to see a chiropractor.
Experiencing the Effects of Chiropractic
Within about four visits, Dr. Angell was amazed at how much better he felt thanks to chiropractic care. He was able to get back in the pool and resume swimming.
After my treatment plan, I was as good as new!
Some years later, once again, chiropractic helped him. Dr. Angell did a five or six-day trek across Wyoming. On the first day, he tripped in a snake hole and injured his ankles and low back. Fortunately for Dr. Angell, a chiropractor was on the trip and he adjusted Dr. Angell on the side of a log. "I felt 90% better and was able to get through the rest of that trip."
Deciding on a Career As a Chiropractor
When he got to the end of undergrad at Pfeiffer University in North Carolina and was applying for schools, Dr. Angell decided on the University of Western States. The first thing he was asked was why he didn't go to medical school because he had excellent grades and extracurricular activities.
For Dr. Angell, however, he didn't see himself working in the medical environment. He enjoyed his time at Western and earned his Doctor of Chiropractic in 2013.
CHIROPRACTIC CARE »
About six months from graduating from chiropractic college, a woman, who had had a stroke about a decade prior, had weakness in the left side of her body. The patient experienced excruciating headaches and asked Dr. Angell to adjust her neck. Specifically, she wanted him to use the drop table on her neck as she wasn't getting any rotation.
After Dr. Angell adjusted her, she got up from the table and was crying tears of joy as she felt remarkably better. "She gave me a big hug and said, 'You just saved me so much misery.' That was a pivotal moment where I knew that, as a chiropractor, I was helping people."
After graduating from chiropractic college, Dr. Angell hopped the pond and set up a practice in the Netherlands-in Amsterdam. He worked there for about a year. His then- girlfriend (now wife) lived there too. Dr. Angell moved and opened another practice in Twello, a village, where he practiced for another year. All told, he spent about two and a half years in the Netherlands before returning to the states.
Dr. Angell moved to Washington State, working in Gig Harbor for two years and then Bellingham for two years. Although he wanted to stay in the Northwest, Dr. Angell was seeking a sunnier city-similar to where he grew up in Colorado-so he and his wife settled in beautiful Sisters.
Outside the practice, Dr. Angell loves to stay active. He enjoys running, cycling, camping, hiking, kayaking, white water rafting and paddle boarding. When he is indoors, he enjoys playing computer games.
Book an Appointment
Contact Three Sisters Chiropractic today to schedule an appointment with Dr. Angell!
---
Dr. David Angell | (541) 549-3583